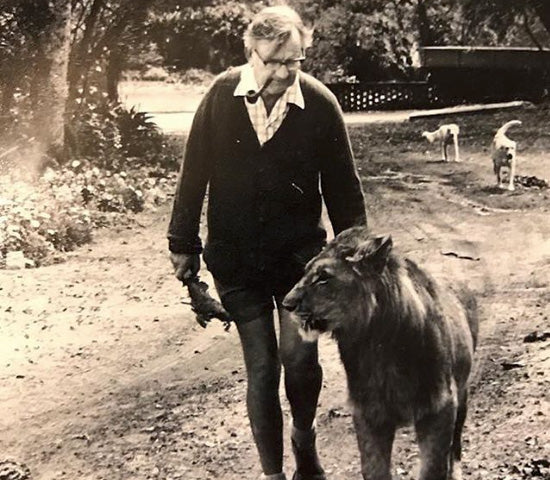 The Travers story is a fundamental part of my brand, who I am as an artist and designer, and why I launched the company with a Safari wallpaper and fabric collection. Their journey is inspiring, captivating and hugely uplifting, so I am dedicating this page to The Travers family, to share their incredible tale.
Norman Travers was my husband's grandpa and was the amazing man who started Imire Rhino and Wildlife Conservation in Zimbabwe in the 1950's. Norman is walking with their lion, Cassius (named after Cassius Clay, later Muhammed Ali). He would often adventure off into the African bush with Cassius, Dudley their pet warthog, Bere the hyena, Potter the Otter, their two Labradors, a daschund and a cat. His love for the wildlife was as close as it was for his own kids and today, his grandchildren are continuing his amazing efforts to conserve and protect the wildlife of Zimbabwe and Africa.
Imire was founded in 1948 by Norman and his wife, Gilly Travers. Originally farmers, they had a great passion for wildlife and conservation, which led to the establishment of Imire as a wildlife conservancy in 1972. The conservancy is located in the Mashonaland East District of Zimbabwe dedicated to the conservation and welfare of wildlife, with a specific focus on the protection and breeding of the critically endangered Black and White Rhinos.
In 1987, 250 black rhino were removed from the Zambezi Valley due to a distressing rise in illegal rhino poaching. These rhino were relocated to private conservancies for safety. Imire was granted custodianship of seven orphaned calves and became an intensive black rhino breeding station. To date, Imire has successfully released 11 rhino into the wild. The Black Rhino Breeding Programme at Imire is now world-renowned, helping to protect Zimbabwe's heritage with the successful re-introduction of this incredible endangered animal, back into the  wild.
Norman began as a tobacco farmer, but his passion for wildlife and conservation soon led him to convert large portions of his farmland back into natural bushland.
Local Zimbawbean writer, Cathy Buckle, published a book on Norman shortly after he passed away in 2010 – "The Life and Times of Norman Travers'
She writes: "Norman Travers was a visionary conservationist and an enduring optimist. Through two wars he displayed great courage and leadership and was awarded a Military Cross for bravery. Passionate about wildlife, Norman demonstrated that maize and tobacco farming could be practised side by side with game animals. Hand rearing lions, elephants and leopards, Norman and Gilly Travers built up Imire Game Park at a time when the country was ravaged by war. When black rhinos were being decimated by poaching, Norman introduced them to Imire, reared the calves and released them back into the wild, winning a Wildlife Oscar for his efforts."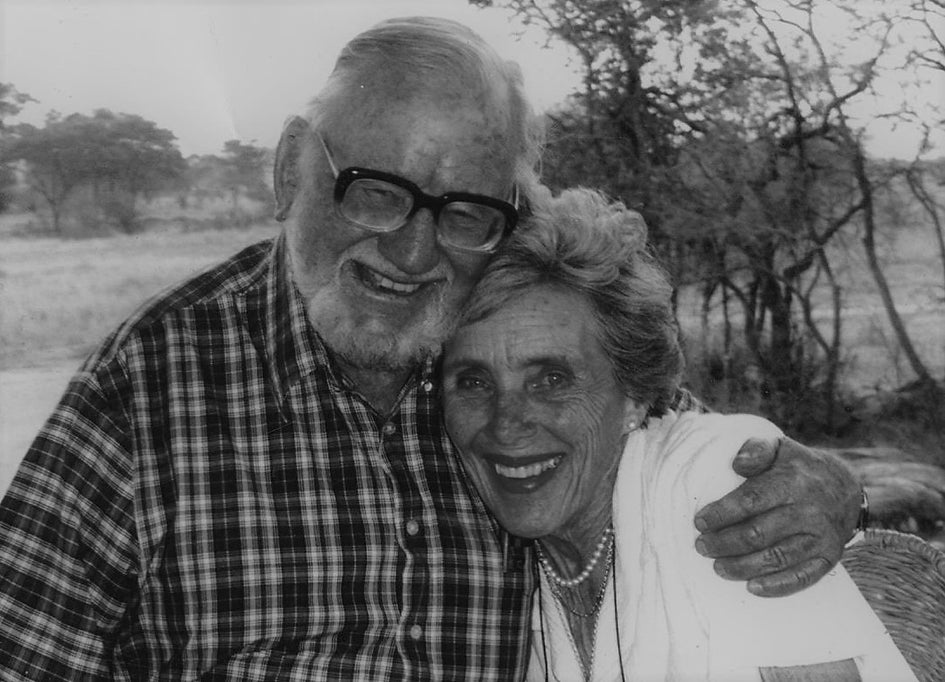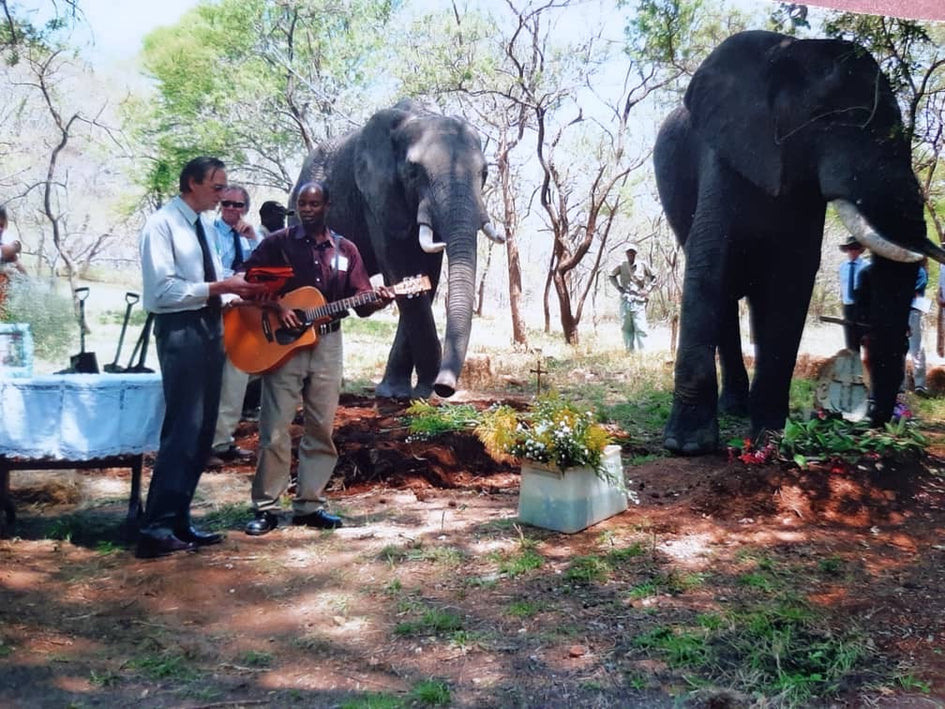 After an incredible life, Norman died of a heart attack on March 2010 and Gilly passed away a few years later.


As family and loved ones gathered for Norman's funeral, and sat on hay bales and prepared for the burial, Mac and Toto, two of Normans beloved elephants arrived unbidden and wandered through the crowd. They lumbered up to the coffin and sniffed it, long and intently. Mac then participated in helping with the burial, using his trunk to pour soil over the coffin of the man who nurtured him as an orphaned elephant back in the late 1970's.

When the last spadeful of earth had been cast on the grave, Mac and Toto stood together on the heap of ground that lay beneath them. Three times in the next week, they returned and stood by the grave and still return every so often to this very day.
Elephants are known to have a fascination with death so everyone at the funeral was convinced they were mourning their loved one.
Imire remains family run to this day with Norman's grandchildren managing the farm, rhino breeding programme and anti-poaching on the conservancy. All of the Travers family are passionate about carrying on Norman's legacy and are closely involved with the Wedza area, sustaining conservation efforts by empowering the local community through livelihood opportunities in low impact and sustainable development.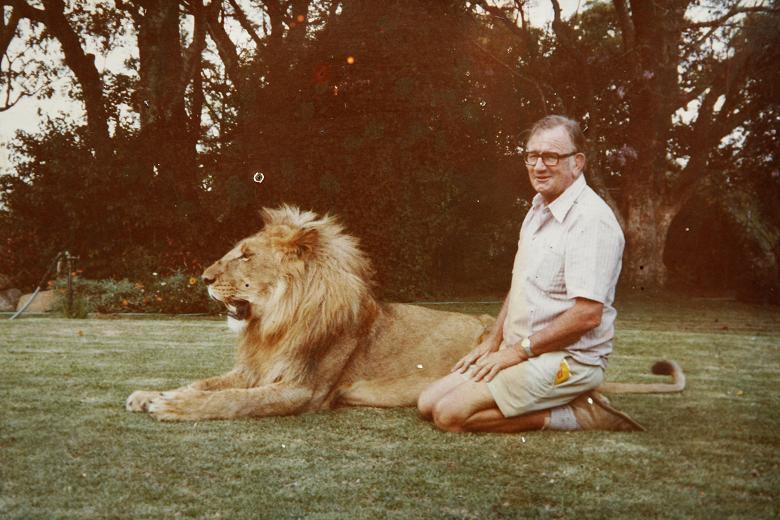 I have been lucky enough to experience Imire first hand and as a result, the wildlife I encountered was the catalyst for my Safari collection shown across this website. You can view the full range here.